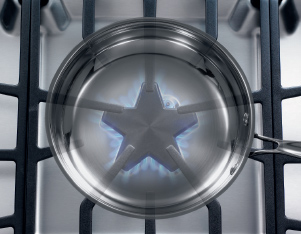 OUR EXCLUSIVE AND
PATENTED STAR® BURNER
The Star Burner's unique shape isn't just for show. It creates a perimeter 56% longer than a round burner of the same size, which allows the inclusion of more flame ports. The result is a stove burner that delivers superior flame spread and a reduced cold spot for faster and more even heating across any size pan.
WHY A STAR DISTRIBUTES HEAT BETTER THAN A CIRCLE
The Star Burner's coverage area allows for more ports and more flame distribution than a round range burner.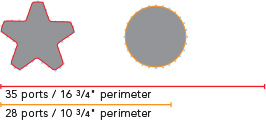 The design of the Star Burner offers greater heat coverage, and a smaller cold spot, making it ideal for any pan size.

DISCOVER OUR STAR BURNER PRODUCTS
EXCLUSIVE FEATURE HIGHLIGHTS
These industry-leading features help create the ultimate cooking experience for true culinary enthusiasts.
EXTRALOW®
Our ExtraLow feature provides the widest variety of temperature control of any simmer system. It cycles the Star Burner on and off to maintain temperatures as low as 100◦. Perfect for simmering delicate sauces or keeping food warm without scorching or stirring.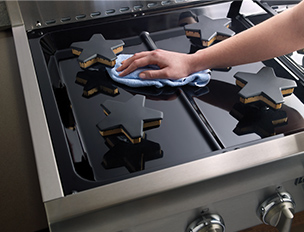 QUICKCLEAN BASE®
The raised pedestal burner and porcelain maintop have been crafted for perfect integration and easy cleanup. A hand and sponge fit easily under each stove burner to wipe the surface clean and a teardrop emboss reduces food buildup near the base.